Are you still hesitating among all the fence styles on the market? Discover our tips and advice to dress up your exterior and protect it from the outside eyes of the street. As a bonus: associate the style of your neighborhood with your composite fence, thanks to the different color combinations of slats and aluminum posts.
A composite fence for a street in the countryside
Choosing your fence is not trivial, even in the countryside! So to stick perfectly to nature and not attract too much attention, only one solution: opt for a composite fence in colors proximate to natural wood. As for the posts, it is not because they are made of aluminum that they are flashy! Choose aluminum posts in Brown 650 sandblasted or even Taupe. What do you think?
Which fence to choose for a suburban area?
For a suburban district, there is no question of doing anything! Often, the dwellings are modern or even contemporary.
So as not to be mistaken, we advise you to select the timeless fence in Anthracite Gray or Graphite. These slats, combined with Gray 7016 or Black 100 Sablé posts, reveal the whole design of your new home.
Choose your wall fence.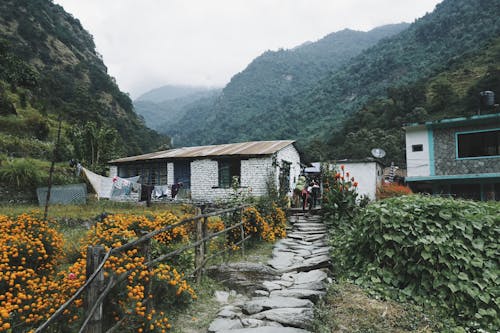 Do you have a low wall to dress your house entrance? Our composite fences can also be placed directly on a low wall, whether made of stone or concrete. Consult the installation instructions to find out more and install your fence yourself on a low wall.
For example, for a stone wall, the contrast between the natural stone and the composite fence is sublime. Give a taste of elegance and modernity simultaneously, thanks to these color combinations. The Anthracite fence and the Gray 7016 aluminum posts perfectly with a stone wall.
Tip: add decorative slats for a designer fence! Here again, your favorite color can be chosen according to your tastes and your style to furnish your exterior.
For a brick wall, we offer a fence close to the natural colors of wood, such as Sierra, Moka, or Arabica.
Tip: combine your fence with a composite gate and get a perfectly harmonized exterior! Evil, isn't it?
For a green street, an elegant fence!
Do you live in a street where it is good to walk among the trees or on a very green lawn in the spring? Make no more mistakes and choose an elegant fence. For this, light colors are your best friends. For example, what do you think of this exterior enhanced by this composite fence?
Tip: Do you want to add dynamism to your fence? Choose posts in contrasting colors compared to your composite slats. Thus, Gray 7016 or Black 100 Sablé will do just fine!
Contact True Built Fencing, a fence contractor in Austin TX, and let professionals build your perfect fence.
Company Name
True Built Fencing
Phone
+1 (512) 354 1601
Address
2025 Guadalupe Street, Suite 250
City
Austin
State
TX
Postal Code
78705
Country
United States
Website
https://truebuiltfencing.com/
Google my Business Website
https://true-built-fencing-austin.business.site/
Google Site
https://sites.google.com/view/true-built-fencing-austin/